The current pandemic need not get in our way of working together, I am now able to offer remote shoots via online connection where you can control the DSLR from the comfort of your own home, from anywhere in the world in a one-on-one shoot.
With a live view through the lens, and jpegs arriving immediately through Dropbox as photos are taken, you will be able to shoot with me, accurately check lighting and focus and maintain the copyright on the images you have taken. The RAWs will be sent over after the shoot for you to edit and really make them your own.
I have a range of lighting options that can be pre-setup to your liking and a large selection of outfits that we can discuss ahead of schedule to make our shoot together both efficient and unique. We'll discuss ideas in detail ahead of time including mood boards to make sure the shoot runs smoothly.
Lenses: 85mm f1.8 US, 24-105mm L, 50mm f1.8 mkI
Lights: Canon 430EXII Speedlite, YN460 Speedlite, 19" Steadyburn Ringlight 3000-5800K 
Modifiers: 16" Beauty Dish with grid and white cover, 36" Brollybox, 33" White Umbrella, L Reflector (white, silver & gold)
Calibration: Lastolite 12% Grey Card & small white reflector, X-Rite ColourChecker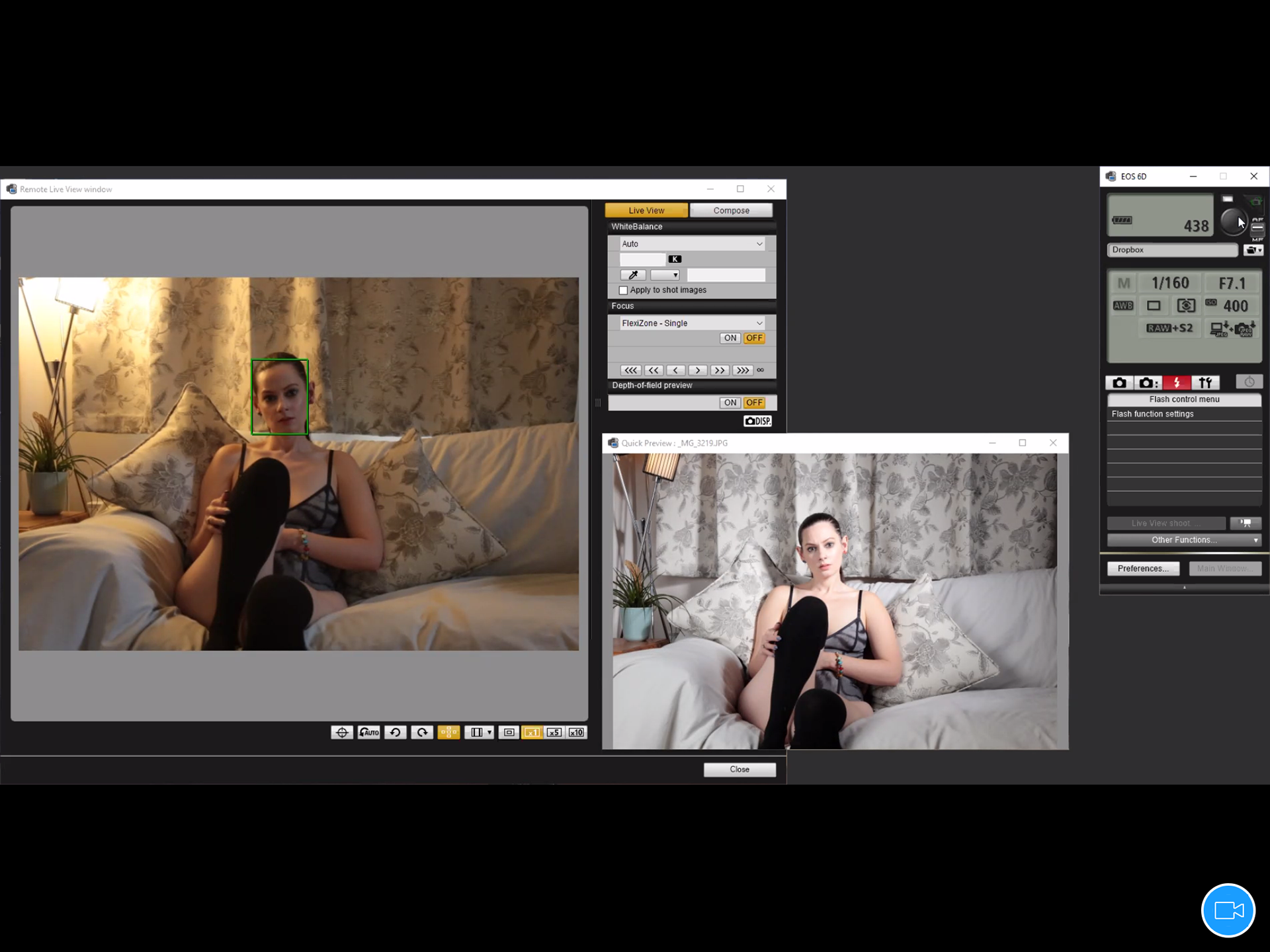 With all that out the way, lets shoot!
First things first please make sure you have Dropbox and Zoom on your computer and that you have sent me the email address that you have linked to these.
I will setup a Dropbox folder that I share with you during the shoot so that as you take images, the jpeg previews will appear straight away in your folder. This is great as it helps you check focus and exposure for how the images will show up on your screen. I deliberately keep these images small so they come across to you fast, your final RAWs will of course be sent over at full resolution after the shoot. Sending them after helps keep the internet bandwidth free for our video and camera connections to remain strong.
To control the camera click on the various exposure controls to change them, to focus simply drag the white box over to what you want the camera to focus on, hover your mouse over the shutter button to focus and when the box goes green, click the shutter to take the image. You should notice the number next to the shutter button change and a small preview of the image come up to show it has taken the photo, a jpeg will now appear in the shared dropbox folder for you to inspect more closely too. Keep in mind there will be a slight delay with controls as this is over the internet and focussing will be a little slower than usual as is normal when using live-view.
Due to telephoto lenses being operated from the lens and not electroncially, please consider that zooming will be difficult so I recommend using the prime lenses for the sharpest image. I am of course happy to use a telephoto lens however you will need me to change this manually for you so please keep this in mind.
Screen recordings/screenshots are NOT permitted during the shoot, only the images taken through the DSLR are permitted. This protects my privacy when moving between poses/outifits etc.